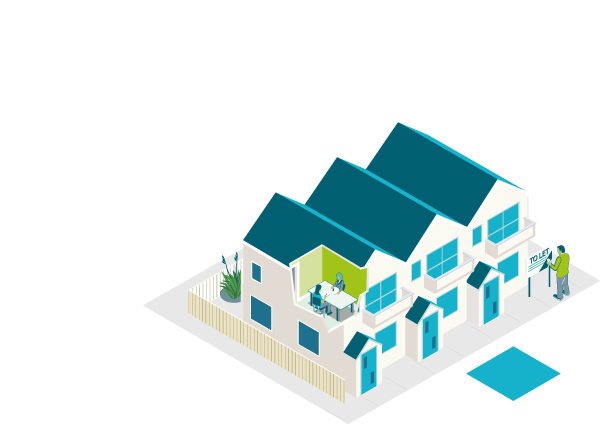 Finding the right place to rent takes time and thought. House or apartment? Alone or with others? Cheap or expensive? It's not always easy to find a place that meets your needs. Here are some pointers on where to start. 
Flatting tells you more about the difference between tenants and flatmates.
Increase your options by searching widely
It is not always easy to find a flat or house, especially one that meets all your needs. Here are some pointers on where to start.
Download checklists to help you choose a good place
A new tenant's checklist will help you choose the rental property that's best for you, your budget and your lifestyle. Look at lots of properties to see what's available, and check them out carefully. As you look around, use the checklist to note down what you think.
Renter's healthy home checklist(external link) from ACC will help you identify any potential hazards in the property you're looking at.
Work out what you can afford to pay
Do your sums before you commit to anything. For example, if your rent's $250 per week, you may need to pay:
| Upfront rental costs | Amount |
| --- | --- |
| 4 weeks' rent as bond | $1,000 |
| 2 weeks' rent in advance | $500 |
| So the total you'll need is | $1,500 |
Know your budget… and stick to it!
Charging rent explains what a reasonable rent is, how you can pay it, and how often the landlord can increase it.
Make sure you have insurance
It's important to make sure you have the right insurance in case you damage anything, either accidentally or otherwise.
Insurance explains the insurance that you'll need.
Choose a good landlord
It's important to feel comfortable with your landlord. How do you get on with them? Are they easy to talk to? Before you agree to rent from them, find out as much as you can about them. It's okay to ask for references – previous tenants would be good to talk to.
Search for Tenancy Tribunal orders(external link) on the Ministry of Justice website to find out if the landlord's been involved in disputes in the past.
If you're in any doubt about the landlord, look somewhere else.
Be aware that landlords can't discriminate against you
Discrimination in tenancy matters has detailed information about discrimination in relation to renting.