Help with working through renting problems.
Case Study
Anaru and Yasmin are having a problem with their flat
Anaru and Yasmin have been living in their flat for six months and haven't had much contact with the landlord, Steve, during that time. Since the last property inspection, Anaru and Yasmin have noted a few minor maintenance issues, including a dripping tap. The issues seem minor so they figure they can advise the landlord when he does the next property inspection in a month or so.
A few days later Yasmin notices there is no hot water for a shower and Anaru notices there is no hot water in the kitchen sink or in the laundry. What started out as a minor dripping tap has escalated to a bigger problem.
Anaru calls Steve's home number and leaves a message on the answering machine. Yasmin tries to contact him at work and leaves a message. They have not received a response two days later and Yasmin tries to contact him again at work. His receptionist says he is out of the country on a business trip and won't be back until the following week.
Anaru and Yasmin do not have any other way of contacting Steve, nor do they have a list of Steve's preferred trades people. They end up taking showers at friends' houses, doing their laundry at a laundromat and boiling the jug to wash their dishes. They wonder if they should call a plumber, but are worried they will be stuck with the expense of the repairs.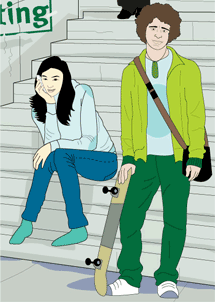 What can Anaru and Yasmin do?
Gary, a Call Centre Advisor for Tenancy Services, suggests Anaru and Yasmin issue Steve a 14-day Notice to remedy, a letter that explains the problem and gives Steve 14 days to resolve it. Gary explains that they can even download the template for a Notice to remedy from the website. Gary suggests Anaru serves the notice by hand, if possible, to speed up the process. Gary also suggests Anaru and Yasmin hold on to copies of all their correspondence with Steve about the issue. Gary says if the problem isn't resolved in 14 days, Anaru should call back to discuss filing an application to the Tenancy Tribunal.
Anaru and Yasmin send Steve a 14-day Notice to remedy right away. Yasmin also calls Steve's office again and asks if they have a contact phone number or email address for Steve. She sends him a text message and an email explaining the problem.
A few days later, Yasmin gets a call from an apologetic Steve. He's going to be away longer than planned but suggests Yasmin and Anaru call a plumber from the phone book and get a quote for the repairs needed.
Anaru arranges for a plumber to come around and the estimate for repairing the hot water cylinder is $200 + additional labour charges. Yasmin leaves a voicemail for Steve with this information and emails him. A few days later, Anaru and Yasmin are growing very frustrated with the situation. The 14-day Notice to remedy has expired and they call Tenancy Services for more advice.
Applying to the Tenancy Tribunal
Tenancy Services tells Anaru and Yasmin that their next option is to file an application with the Tenancy Tribunal. They can save time and apply online(external link), and pay the $20.44 application fee with their Visa or Mastercard, or online banking.
They can find out more about how to apply to the Tenancy Tribunal on the website.
To avoid delay, Anaru and Yasmin need to make sure they complete all the sections of the Tenancy Tribunal application form. They need to provide details of the tenancy as well as contact details for the landlord and themselves as the tenant.
Anaru and Yasmin will be asked to specify the orders they want the Tribunal to make (in this case, fix the hot water cylinder) in section 9. You want the landlord to fix something and section 11. You want to claim compensation.
While Anaru and Yasmin are contemplating filing a Tenancy Tribunal application, Steve knocks on the door. He calls the plumber on the spot and arranges the repairs to be done immediately, with Anaru and Yasmin's consent. Steve is very apologetic and also offers to reduce their rent for the next month for their inconvenience.
Getting contact details
After this experience, Anaru and Yasmin ask Steve to complete the Contact details for the landlord form, which lists Steve's contact details and also an alternative person they may contact. They also discuss how they should deal with a situation like this in the future and Steve provides details for preferred trades people. Steve also asks Anaru and Yasmin to let him know about any maintenance or repairs needed before it becomes a bigger issue.