Things you should know about when a tenancy ends. 
Case Study
John and Rachel are moving out of their flat
John and Rachel have a periodic tenancy. Their landlord is selling their flat and has asked them to move out. A landlord is required to give 90 days written notice to end a tenancy. However, if the property has been sold or will be used by the landlord or the landlord's family, only 42 days' notice is required. As the flat has been sold, the landlord is only required to give John and Rachel 42 days' notice to move out.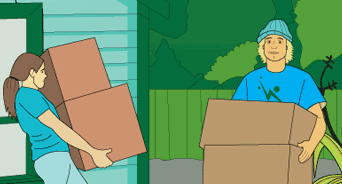 Before moving out John and Rachel need to make sure:
the rent is paid in full
there is no damage to the property
they remove all of their belongings 
the property is left reasonably clean and tidy
they dispose of all rubbish properly
the keys are returned to the landlord.
They will also want to arrange a final property inspection with the landlord and agree to the bond refund. They can complete a bond refund form with the landlord or a bond transfer form if they want to transfer their bond to a new tenancy elsewhere. John and Rachel also give the landlord their new address in case he needs to contact them.
It's also a good idea for John and Rachel to contact their power company, phone company, insurance company, internet service provider and pay TV provider to advise them of their moving date and new address.
To ensure that nothing gets missed, John and Rachel should use New Zealand Post's redirection service. They can sort this out online or in person at their local PostShop, and that way anything addressed to their old flat after they've gone will find them at their new place.
John and Rachel have been good tenants, always paying the rent on time and taking good care of the property. The landlord offers to write them a reference letter and to serve as a referee when they are renting in the future.