A well-insulated property can help control condensation and reduce the chances of mould and other nasties taking hold. It'll also make it easier for a house to retain heat - a warm house is a drier house.
In a nutshell
Didn't insulation requirements already change?
You're spot on, nice catch! Ceiling and underfloor insulation has been compulsory in all rentals since 1 July 2019.
To meet the healthy homes standards some existing insulation may need to be topped up or replaced.
Insulation needs to meet the R-values for your area
So, what are R-values? The "R" stands for thermal resistance. R-value is a measure of how well insulation resists heat flow. The higher the R-value, the better the insulation. Living in Hokianga is a bit different from renting a house in Invercargill. That's why the minimum standards for insulation are different across New Zealand's three key climate zones.
Zone 1 - ceiling R 2.9
Zone 2 - ceiling R 2.9
Zone 3 - ceiling R 3.3
Nationwide - underfloor R 1.3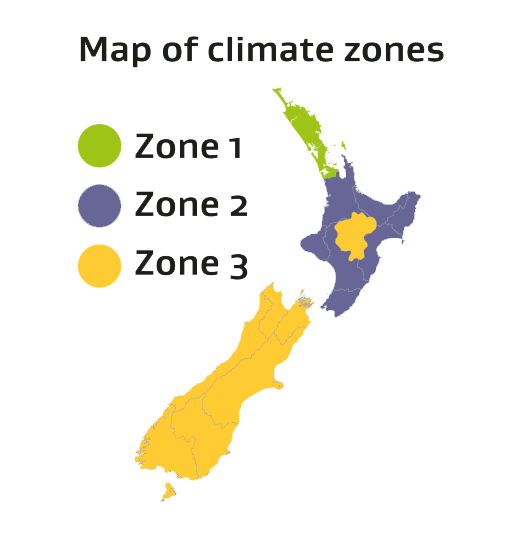 Use our online tool to check if your insulation is up to scratch
How to make it happen
Check yourself
You can check the R-value of new insulation by checking the product packaging. If you have existing insulation, check it yourself or hire an expert. Information may be attached near the access or may be included on the council building file.
Do it once, do it right
Save time and money by putting your underfloor insulation in at the same time as your moisture barrier - if you need one for the moisture and drainage standard.
Ready to Raise the standard?