Ceiling and underfloor insulation is compulsory in all rental homes.
Ceiling and underfloor insulation must be installed in rental homes, where it is reasonably practicable since 1 July 2019. It must meet the standards set out in the regulations and be installed safely. Wall insulation is not compulsory.
The insulation regulations apply to any residential rental property covered by the Residential Tenancies Act.
If you live in social housing and pay an income-related rent, insulation has been compulsory since 1 July 2016. If your tenancy began after that date, the landlord has 90 days to meet the regulations.
Residential Tenancies (Smoke Alarms and Insulation) Regulations 2016(external link)
The healthy homes standards include new requirements for insulation, which will take effect from 1 July 2021 onwards.
Landlords who have installed new insulation since 2016 should already meet the 2008 Building Code, so they won't need to do anything further when the healthy homes standards take effect providing the insulation remains in good condition.
However, landlords who didn't previously need to improve their existing levels of insulation under the current requirements, may now need to do so under the healthy homes standards. Currently, if the property already has ceiling insulation which is at least 70mm thick and underfloor insulation, and both are in good condition, then landlords have not been required to take action.
Under the healthy homes standards, all rental properties will need to have insulation which meets the 2008 Building Code, or (for existing ceiling insulation) have a minimum thickness of at least 120mm.
More information about healthy homes standards(external link)
How to meet the insulation regulations
Insulation is rated by how well it resists heat flow, measured by the R-value. The higher the R-value, the better the insulation.
If ceiling and underfloor insulation was installed in your rental property before July 2016
An upgrade may not be necessary provided the insulation is in reasonable condition (e.g. no mould, dampness or gaps in the insulation), and achieved at least the minimum R-value when the insulation was installed.
Minimum R-values for timber-framed homes:
Ceiling R 1.9
Underfloor R 0.9
Minimum R-values for masonry homes:
Ceiling R 1.5
Underfloor R 0.9
If any part of the existing insulation is not in reasonable condition, then the landlord must replace it with insulation that meets the new standard.
If there is no existing insulation or it was installed after 1 July 2016
Insulation in rentals needs to meet the minimum R-values listed below. The minimum R-value will depend on which part of the country the property is in. Please check your area using the below map: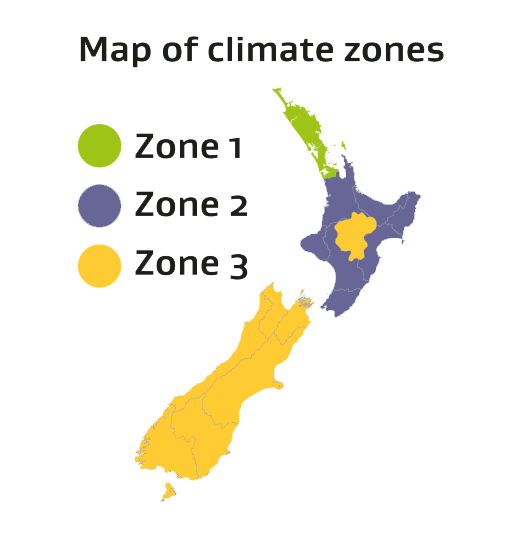 Minimum R-values for Zones 1 and 2:
Ceiling R 2.9
Underfloor R 1.3
Minimum R-values for Zone 3:
Ceiling R 3.3
Underfloor R 1.3
If a rental property is below these levels of insulation, it must be upgraded to meet the new standard.
Where there are multiple layers of insulation and all layers are in reasonable condition, then their product R-values may be combined.
A qualified professional insulation installer can advise you on the best way to meet the regulations.
What does installing insulation cost?
The cost of installing insulation depends on the size, shape and location of the building being insulated. As a rough guide, however, EECA advises that the average cost of paying a professional installer to put in both ceiling and floor insulation is approximately $3,400 excluding GST for a 96m2 property. You should generally expect to pay more than that for a larger home.
Before choosing the product, check the cost per square metre of products with better performance – these have a higher thermal resistance or R-value. The prices of lower and higher-performing insulation products are often similar.